Are you a nature lover at heart?
Do you find endless inspiration in the natural world?
Are you curious about establishing a nature journaling or art/nature based mindfulness practice, and exploring the space where nature meets art in a journal?
Press pause on your busy life, pick up a paintbrush and escape into nature with me!
There's something so enriching about getting outside and observing nature, creation, and the beauty that surrounds us in the natural world. It's in these quiet, mindful moments, as you connect with the beauty and inspiration that lies hidden all around you, that creativity can flourish. In this class we're going to step outside with a journal in hand, and find our way back to the simple pleasure of being immersed in nature.
If you truly love nature, you will find beauty everywhere… and once you start to really observe the beauty, you'll find it an endless source of inspiration for you nature journal or sketchbook. Inspired By Nature is all about taking the inspiration that surrounds us in the natural world and using it to ignite your imagination.
As you arrive at the place where nature meets art, I'm going to guide you and your paintbrush through the creative process from the very beginning. As we explore sketching, colour palettes, hand lettering and lots of different painting techniques, your nature observations will spill out onto the pages of a journal in a beautiful, inspired way.

Getting Started
We begin our class with a chat about those blank page jitters, and how to overcome them. Then we step outside and start exploring the natural world around us with childlike curiosity - as though we're seeing it for the very first time. We get down very close to the ground, and start to notice all of the little things - the beauty, and inspiration that was lying hidden all around us. We start looking at leaves, and taking time to notice all of the different shapes and colours. We begin our nature journal by sketching all of the different leaf shapes that we notice, and we experiment with pen and line drawings.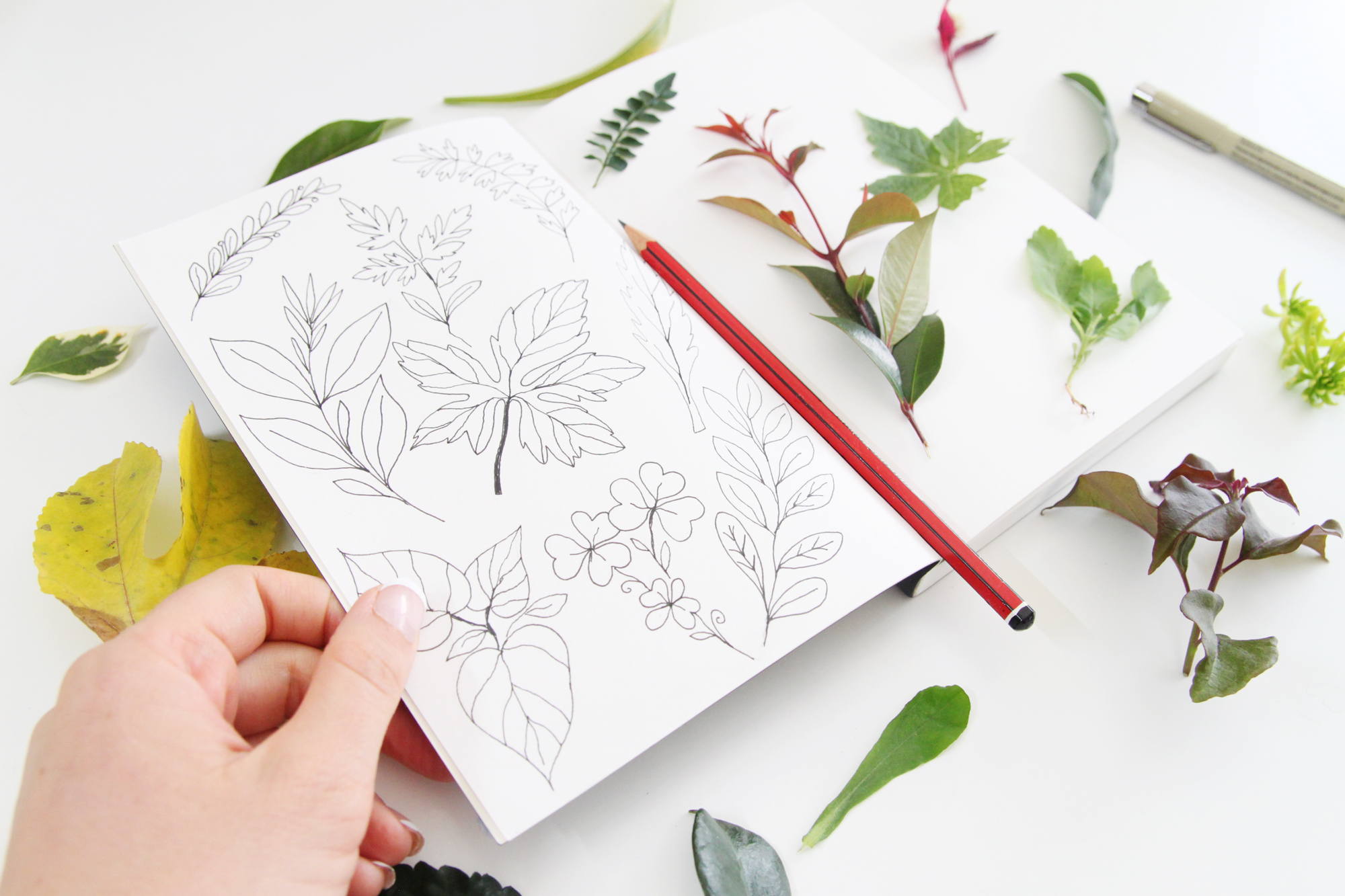 Lovely Leaves
This lesson is all about leaves, and using the leaves from our wanderings as inspiration for some beautiful pages in our journal. We begin by replicating the colours of our found leaves using the three primary colours, and I guide you as we adjust colours intuitively on our palette. Then we experiment with a loose, fluid painting style over our line drawings. We play around with our collection of leaves, arranging them in a circle before using the arrangement as inspiration for another page in our journal. Our last leafy exercise is a hand lettered quote, on a coloured background surrounded by painted leaves.
In Full Bloom
We begin this lesson by stepping outside again, and this time we're looking for little pops of colour in our surroundings. You'll be amazed at what you find when you really slow down and take a close look around you! We'll begin another page in our nature journal by focusing on the shapes of all the different flowers that we found, sketching in their outlines. We experiment with colours again, this time mixing all of the beautiful, bold floral colours with the three primaries! Then I'll guide you as we paint a collection of flowers, and your creativity will bloom as the flowers emerge from your page!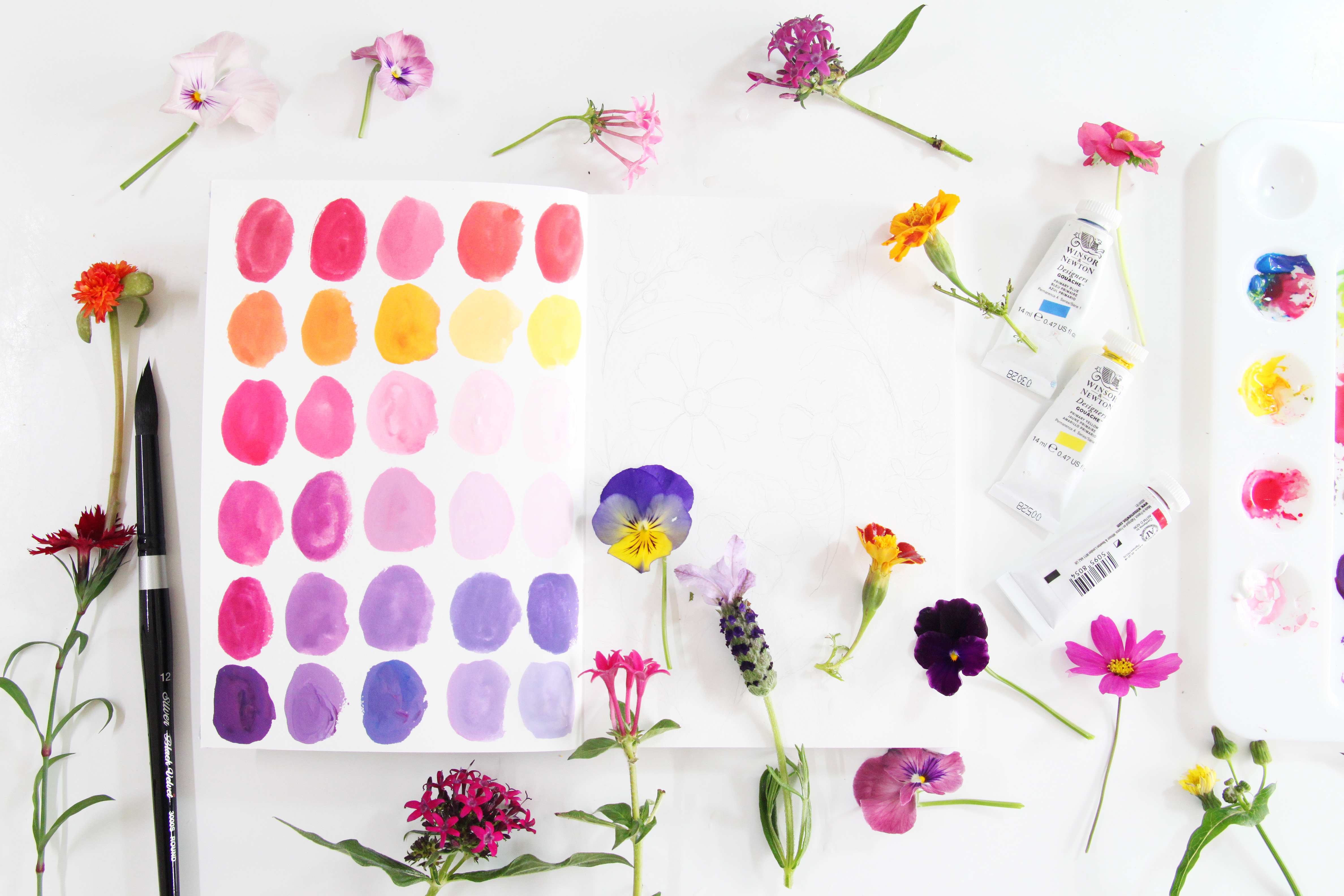 Intuition & Inspiration
This lesson begins with a memory challenge! We'll practice strengthening those observational skills before painting a hibiscus (or flower of your choice) entirely from memory. Follow along as I share my intuitive painting process and gain a deeper appreciation for just how flexible and forgiving gouache is as a painting medium! Then we'll explore the way that a colour palette from one page, can inspire an entire new artwork. We'll bring a cheeky galah to life using the same area of our paint palette, and we'll experiment with adding tissue paper texture into his wings for a little extra playfulness.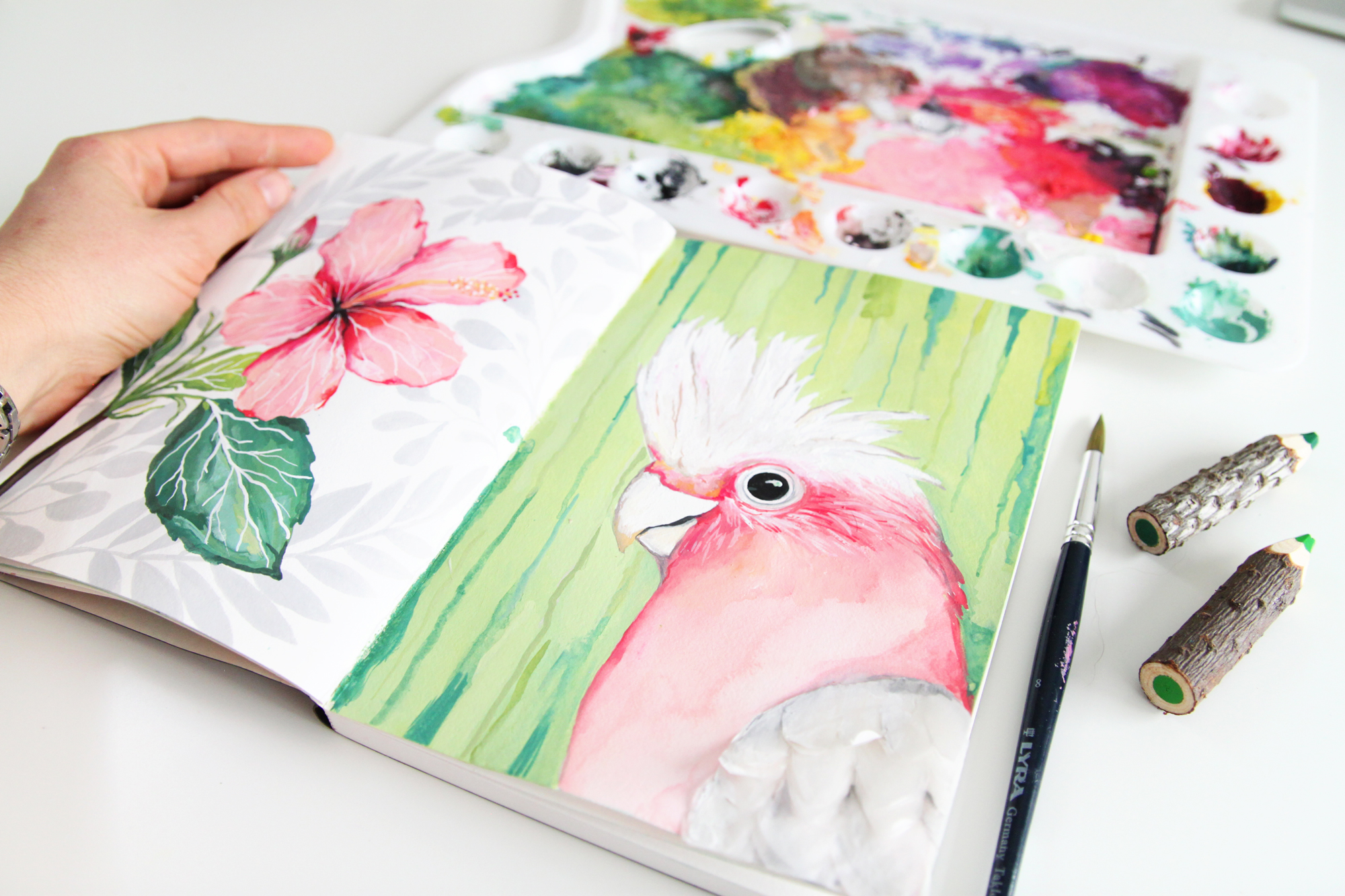 Bonus Project
Let's combine all of the skills that we covered in the previous lessons, and create a beautiful cover page for your journal! We'll also experiment with incorporating some pressed flowers to the page, which will add a little extra magic!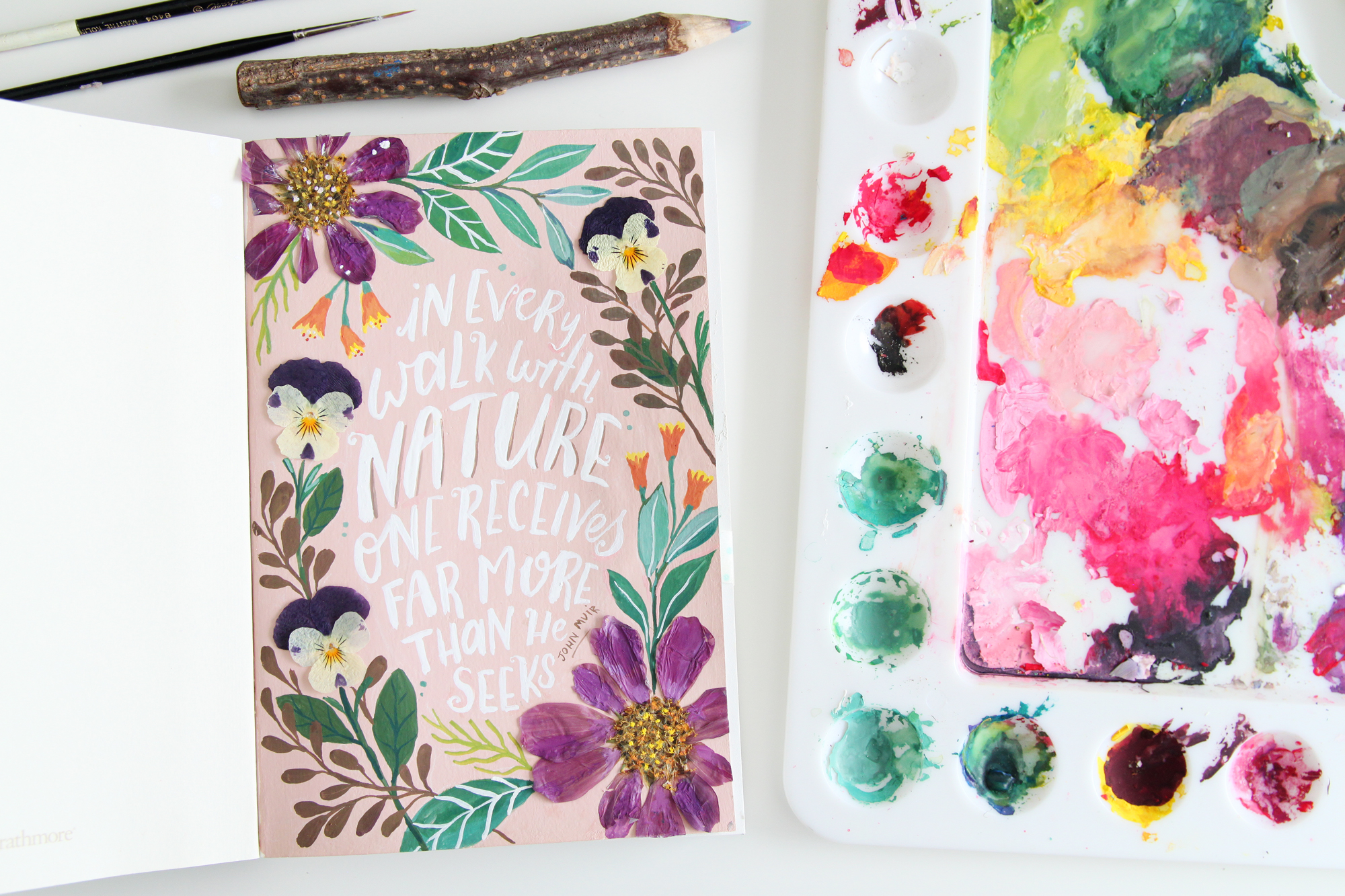 Ready to tap into the endless inspiration that surrounds us in the natural world, and unleash your creativity through a flexible and forgiving painting medium called gouache? Are you curious about getting to know gouache as an art journaling medium?
Frequently Asked Questions
When does the course start and finish?
Inspired By Nature is a completely self-paced online course - you decide when you start and when you finish!
How long do I have access to the course?
How does lifetime access sound? After enrolling, you have unlimited access to this course for as long as Inspired By Nature exists - across any and all devices you own.
What if I am unhappy with the course?
I would never want you to be unhappy! If you are unsatisfied with your purchase, contact me at
[email protected]
within the first 30 days and I will give you a full refund.
Do I need to know anything about gouache to join?
If you've never used gouache before, you will need to complete my free foundation mini-course, Get Started With Gouache before you start Inspired By Nature
How to do I access the course?
Once you enroll, you will be notified by email and you'll be able to login and get started straight away. You will need some basic tech know-how, and be able to access and navigate the course on a computer or another device. A high speed internet connection is necessary for all of the video content, and a printer may be handy.
Your Instructor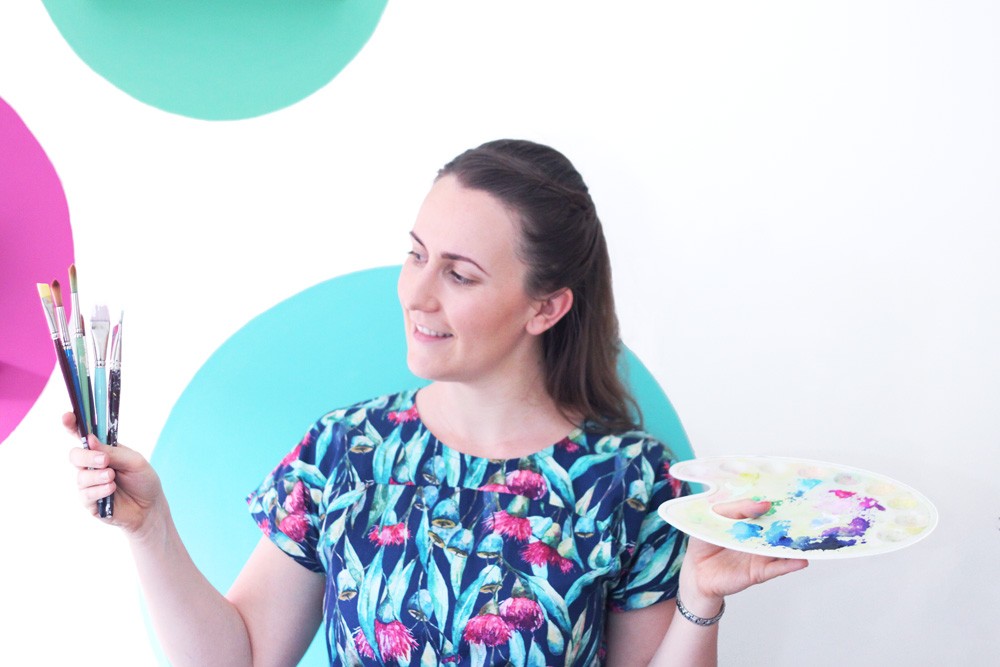 I bought my first set of gouache paints for design college over 10 years ago! It was on the materials list, so I got a set of primary colours. We never actually used it though, and my little set of gouache paint got pushed to the back of the cupboard. I developed as a fine artist painting with acrylic paint on huge canvases, and I forgot all about gouache.
Fast forward a few more years, and I find myself living on a really remote island in Indonesia. Because we accessed our island home by a tiny seaplane with strict luggage restrictions, I had to downsize my artwork significantly. So I began experimenting with different mediums, and I re-discovered the same old tubes of gouache that I'd bought for college all those years ago. Some of the tubes were pretty much dried up, but I discovered that I could rewet the paint with water!
I found gouache a little tricky to work with at first. I had trouble getting the paint to spread easily, while still maintaining that beautiful bold finish that gouache is known for. It also took me a while to find the right paintbrush, and paper for the job, but once I did - the quality of my work changed overnight.
I'm ready to share all of my tips, tricks and secrets with you, and I want to open a world of creativity and colour to you through gouache!